natural stone surfaces
Technical Details
For us to complete the exact template for your installation, you need to consider what you want in your overall plan and what details need to be incorporated.
We have provided some of our most popular designs for each application, but this is just a sample – and we will happily work with any bespoke requirements you may have.
the natural source of
your stone
About Us
Natural Stone Surfaces take great care in ensuring all of the material is finely polished, cleaned and protected by hand.
Find out more about us
Get A Quote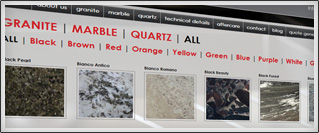 Use our quote generator to receive an instant quote based on
your choice of stone
your measurements
your specifications
Our quote generator.
Contact Us
If you have any questions then we would love to hear from you. Use our contact page to get in touch.
Our contact page
Template & Installation
Once you have decided on your specifications, we will create a template of the finished job, which can then be fitted in a week, thanks to the efficiency and experience of our team.
We will advise on the best way to include joints in your worktops, ideally as few as possible in an aesthetically pleasing design. This will be discussed on template with any changes being confirmed if necessary.
To ensure the perfect template it is imperative that the kitchen carcass be complete (apart from plumbing) before the template is made and all appliances should be available on site. Should the units be moved or altered in any way it is best to arrange another template as changes to the units can affect the fit of the work surfaces.
Working in stone is a skilled craft, not least in its preparation and installation. That's why we employ our own highly trained fitters to ensure your design sees the same perfect finish as our materials.
Texture
Granite is manufactured with a range of different finishes, the most popular being polished. This is a high gloss surface where the stone has been polished to a high sheen. The extent of the sheen is dependent on the type of stone.
An increasingly popular choice is a honed finish, this is a lighter, dull polish, leaving a smooth surface without the sheen.
A leather finish gives a similar appearance to honed but gives the stone a lightly textured surface, this choice works well with a contemporary design.
Riverwash finish is also referred to in the industry as antiqued, this gives the stone a highly textured surface with a similar colour appearance to honed.
Not all stones are available with different finishes.
Stone – evolution at its strongest
When you buy natural marble, granite, slate and limestone, you are looking at materials which may be as much as 300 to 500 million years old.
The History of Stone