natural stone surfaces
Granite
As the hardest structural stone, natural granite makes an ideal choice for flooring, counter tops and vanities, as well as finding use in exterior applications.
Its many stylish patterns and colours make it the most versatile and popular of all decorative stones. Characterised by great stiffness and density, its wonderful patterns have been created by minerals melting into its once liquid mass.
Granite is one of the most common examples of igneous rock, providing and extremely hard but uniquely attractive work surface.
View our granite collection
nothing competes with granite for
strength and style
Igneous rock is the result of magma, the molten rock beneath the earth's surface, cooling and solidifying, often trapping many complex and precious minerals within its structure. Their crystals can be seen as flowing layers or may appear randomly, both giving rise to wonderful effects when the surface of the stone is cut and polished.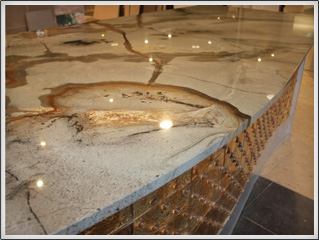 Granite is a low-maintenance stone that retains its beauty throughout the years.
Given the care we recommend for any natural product, granite is equal to the most demanding usage. It offers excellent stain and heat resistance, low maintenance and a cool, sterile surface for the preparation of food. Granite therefore has a unique standing amongst chefs and catering circles as the ultimate in luxury worksurfaces.
It is that perfect combination of what is both practical and a pleasure to work with and look at.

Sensa By Cosentino
With Resistant Protection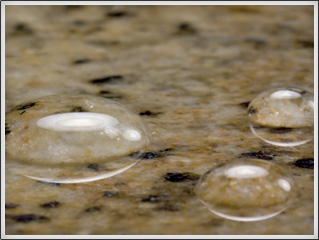 What is Sensa?
Sensa is a granite collection that Cosentino brings exclusively from Brazil with a revolutionary stain resistance that guarantees the durability of your worktop.
Choosing Sensa
Sensa represents a new and radical concept in the granite sector, because it offers a definitive protection treatment to reduce stain problems on the material. All this whilst retaining the natural beauty of the product.
Keep your worktop looking as good as the day you got it with Sensguard protection and 15 years warranty.
The SENSA brand defines a range of granite products with great added value. It does not require any special maintenance and is certified for contact with food, thus guaranteeing security and peace of mind with every use.
Granite Gallery



View our entire granite image gallery
Quartz
Find our more about our quartz
Marble

Find out more about our marble